---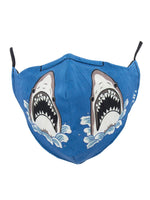 We recommend washing your mask on a delicate cycle, and hanging it to dry in the sun. 
The straps are non-adjustable, but one size fits most. The design features a pliable metal
 strip to help shape the mask across the nose bridge, for extra comfort. 
68% Rayon, 32% Linen on the outside, and 100% Cotton on the inside.